MALENOVICE BREWERY
Malenovice Brewery. In 2012, the tradition of producing beer under the brand ZLÍNSKÝ ŠVEC® was renewed in the original premises of the brewery. Distribution is focused on the Zlín region, but interest is growing in other parts of Bohemia, Moravia and Silesia. This beer won two awards in 2016: the "Spring Prize of Czech Brewers" where its 10° light won 3rd place, and the "Regional Food of the Zlín region" award for its 11° semi-dark.

Portfolio
The brewery currently produces only bottom fermented unfiltered light, semi-dark, and dark beers. Extension of production to include other beer specials is under preparation.

Availability
For a list of places where you can taste draft Ševc or purchase it in PET bottles, please visit our website at www.Zlínskysvec.cz or on Facebook.

Guided tours
You can see how ZLÍNSKÝ ŠVEC is prepared with your own eyes. The brewery offers tours during which you can see the production of beer up close. Tours of the brewery are organized by prior arrangement. A tour can also be ordered by phone or by email.
Events and Festivals
The Malenovice Brewery participates in several beer festivals that take place mostly during the summer. It is also the organizer of the Brewery Beerfest Malenovice. It will take place for the second year on 17 June 2017 on the brewery premises and the company VLW, Zlín – Malenovice.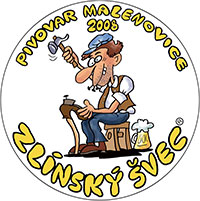 MALENOVICE BREWERY
Švermova 101, 763 02 Zlín – Malenovice
Phone: 739 710 550
info@zlinskysvec.cz
www.zlinskysvec.cz
Mapa se načítá