KELČ BREWERY
Kelč Brewery. In early 2015, a group of enthusiasts begin to build their own microbrewery and in mid-April were ready to brew their first pale lager. Indeed, there was something to build on, since beer has been brewed in Kelč for at least 350 years. The first written mention of brewing comes from the beginning of the 16th century. The first bishop brewery was founded by Jan Skála from Doubravka (Jan XVI Dubravius) in 1553. In 1555 it became the municipal brewery. This brewery was closed and demolished sometime around 1885.
The microbrewery brews only from base ingredients (Haná malt, Saaz hops, water and brewer's yeast) using the decoction mashing process. The beer is not filtered, so it retains all the valuable substances as well as a share of brewer's yeast, causing the subtle clouding of the beer.

Portfolio
Bottom fermented lagers and specials. Permanently 11° light and semi-dark, occasionally 12° extra bitter, 14° special amber, and 15° semi-dark special.

Availability
The Kelč Microbrewery focuses mainly on the sale of PET bottles and kegs.
La Putyka (Kelč) – the pub on the playing field taps 11° semi-dark tapped.
Guided tours
For groups and individuals, practically every Friday afternoon. Previous telephone arrangements are recommended.

Events and Festivals
Kelč Festival – an annual cultural festival on the last weekend of June.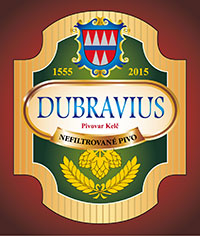 KELČ BREWERY
Kelč 112, 756 43 Kelč
Phone: 608 456 149
Phone: 773 669 547
pivovarkelc@gmail.com
Mapa se načítá