HOLENDR BREWERY
Holendr Brewery is a craft brewery from Valašské Meziříčí where the first beer, the 13° light special, was brewed on 25 October 2015. Holendr Brewery has produced nearly two dozen beers of various beer styles.
We use no additives during production, and beers are produced only from basic ingredients (water, malt, hops, and brewer's yeast), while brewers respect the needs of each type of beer. All beers are produced in a triple-vessel boiler with subsequent separate primary fermentation in the fermentation room and a secondary fermentation in the lager tanks. The beer is not filtered or stabilized by pasteurization.
Part of the brewery is a restaurant with a capacity of 45 seats and a lounge for 50 guests (bookings at tel. +420 775397075). The restaurant drafts seven kinds of local beers, served with specialties for beer and from beer. During the summer, the garden is in operation with a capacity of 150 seats. The area has parking for about 30 cars.

Portfolio
The permanent selection includes 10° light draft, 11° or 12° light lager, and one of the three types of 13° and Bavarian 14°. In the spring, Holendr brews a 12° spring ale and an 18° Easter Special IDIPA. In the summer, Holendr produces 10° summer ale single hop and 11° wheat beer. In the autumn, 20° stout is brewed as a Christmas special. Annual production is about 2,000 hl. Our best-selling beer is the Holendr 10° bottom fermented draft beer.

Availability
Outside the Holendr brewery restaurant, the restaurants in Brno: Hluchá zmije, U Tekutého chleba, Na Stojáka, Ponava café, Ogar Beer Bar, and the Zelenáčova šopa restaurant in Zlín.

Guided tours
Tours can be arranged for a group of maximum 10 participants by telephone on weekdays between 2 pm and 5 pm with the possibility of a beer tasting.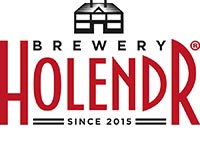 HOLENDR BREWERY
Hřbitovní 484, Krásno nad Bečvou
757 01 Valašské Meziříčí
Phone: 724 587 591
sladci@holendr.cz
www.holendr.cz
Mapa se načítá