SVATOJAKUBSKÝ BREWERY
The Svatojakubský (St. James) Brewery is a family brewery located in the premises of a renovated rustic farmyard while maintaining the skill of the old masters. During the reconstruction, representational underground spaces were created here that highlight the art of the old and almost forgotten crafts where you can feel a stylish and homely atmosphere. You can find us in a small village at the foot of the picturesque Vysočiny highlands.
Portfolio
We brew multi-malt bottom and top fermented beers, Czech lagers, specials, and strong beers using honest dual mash traditional technologies. We always offer up to 6 beers. We'll be glad to provide you with current information during a visit.

Availability
Beer can be bought directly at the brewery and at select retailers which can be found on our website.

Guided tours
We'll be happy to walk you through our brewery. The tour can also include a tasting. We'll introduce you to the production of beer, and you can visit our cellars. Tours can be ordered on site or by telephone agreement.
Events and Festivals
We organize a variety of seasonal events, concerts, meetings, beer celebrations, and more. You can sit in the sunny rustic courtyard or in the stylish rooms. We trust that you'll enjoy our good traditional Czech cuisine. All the events that we organize are posted on our website.
We will be glad to host you.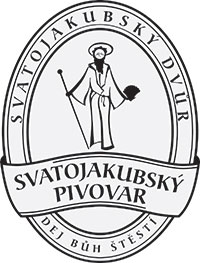 SVATOJAKUBSKÝ BREWERY
Hluboké 27, 675 71 Náměšť nad Oslavou
Phone: 735 086 900
Phone: 604 895 807
www.svatojakubskypivovar.cz
Mapa se načítá