DALEŠICE JOINT STOCK BREWERY
Dalešice Joint Stock Brewery – the brewery of the film town of Postřižiny. Although beer has been brewed in Dalešice since the 16th century, it was just over 35 years ago that the brewery came into wider public awareness after the director Jiří Menzel selected it from 150 other buildings for the film Postřižiny (Cutting it Short) based on a book by Bohumil Hrabal. By this time, the brewery had been non-functional for three years already and was inexorably in decline. This situation lasted until 1999, when it was acquired by the current owners and rescued, thanks to a sensitive reconstruction.
Since 2002, beer has been brewed according to an old brewery law that says that the production of beer shall consist only of water, malt, hops, and yeast, and during its manufacture nothing may be added to or removed from the beer. Dalešice beer is brewed solely using classical methods, with no pasteurization or filtration, thus remaining a completely natural product.

Portfolio
Permanent selection: Dalešická 11° – pale lager, Dalešická májové – light special 13°, Fledermaus – dark special 13°, and Kouřící kralík (smoking rabbit) – semi-dark lager 12°. Throughout the year, more occasional beers are brewed, for example Dalešický Wiener – quadruple hopped Viennese lager 12°, Anton Dreher – extra bitter lager 12°, Osvald – light draft beer, hopped with ten Czech hops, Bock – world special 16°, Věrtel – light lager 12° – beer hopped with freshly harvested hops.

Guided tours
The historic part of the brewery has been transformed into a unique museum of Austro-Hungarian brewing, while part of the original malthouse is now a restaurant where Dalešice beer can be enjoyed with honest dishes of brewer cuisine. The stylish historical building, where the film board of the brewery was held, is now used for weddings, parties, and corporate events. The complex also includes a poetic hotel.

Events and Festivals
Throughout the year, the brewery organizes various cultural, sporting, and gastronomic events.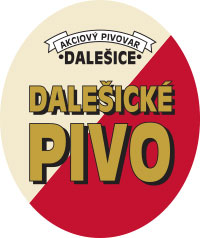 DALEŠICE JOINT STOCK BREWERY
Dalešice 71, 675 54 Dalešice
Phone: 568 860 942
rezervace@pivovar-dalesice.cz
www.pivovar-dalesice.cz
Mapa se načítá