CHOTĚBOŘ BREWERY
Chotěboř Brewery is the first newly built industrial brewery in the modern history of brewing. Production began in 2009.
It is architecturally austere, but distinctive and highly visible building, is generously glazed, which allows you to see the very heart of the brewery, the stainless boiler, from the outside. The continuing operations of fermentation, aging, filtering, and bottling also utilize current technology for managing, monitoring, and protecting the natural brewing process. The brewery is thus a perfect marriage of modern and traditional technology.
On the domestic market, beer is mostly available as filtered and non-pasteurized beer as well as unfiltered beer directly from the lager tanks.

Portfolio
Our permanent selection includes light lager Chotěboř Premium, light draft Chotěboř Original, semi-dark lager Chotěboř Polo, and unfiltered lager Chotěboř Plus. We also produce a St. Martin double-malt special, a Christmas caramel special, and an Easter lager.
Availability
On the domestic market, the beer is supplied primarily as filtered non-pasteurized beer as well as unfiltered beer directly from the lager tanks. Beer is produced in kegs with volumes of 15, 30, and 50 liters for restaurants, bars and pubs, and in bottles for the retail market.
Guided tours
A guided commented tour with beer tasting directly from the lager tanks is available for organize groups of at least 8 and always by prior arrangement.
Events and Festivals
The brewery organizes several events per year – the Brewery Ball in February, Brewer's Festival in August, and Open House Day combined with a competition for the best goulash using Chotěboř beer in October.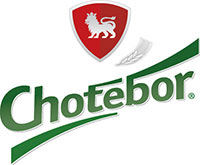 CHOTĚBOŘ BREWERY
Průmyslová 1755, 583 01 Chotěboř
Phone: 569 431 992
info@pivovarchotebor.cz
www.pivovarchotebor.cz
Mapa se načítá