MOSTECKÝ KAHAN
Mostecký Kahan. In the center of a housing estate, now the historic building of the first modern cinema in the city of Most (Kosmos, 1971), is located an oasis from another time. Mostecký Kahan, the only microbrewery its kind in the Most region, was opened in November 2009. Walk into the brewery restaurant and leave the city built in the sixties and seventies behind. You'll find yourself in a friendly pub with an atmosphere so distinctive that after a few minutes, you won't believe that it's gray concrete behind the windows. Sit back and look around. Not only will you see the polished boiler, typical in microbreweries, but also a fermenting tank. You can watch with fascination how beer is brewed right before your eyes. In the beginning, our brewer brewed in 200-liter brewing tanks, but the high interest led to the replacement of the brewing vessels with a greater volume of 500 liters in August 2012.
Portfolio
We have a constant supply of four lagers led through copper pipes: Magistr Edward Kelley (12° pale lager), Zdař Bůh! (semi-dark lager 12°), Černí Andělé (dark lager 12°) and Mostecká 11° (light lager 11°). The other two taps alternate with different kinds of specials such as Bock, Amber ale, Munich beer, IPA, and many others.
Availability
Our beer is on tap at the brewery restaurant Mostecký Kahan, the pub Kosmos, and in the Hostinec na Náměstíčku on the city square, all in the city of Most. You can also buy our beer in Pivo a Párek beer bars in Prague.

Guided tours
Guided tours are available by appointment on weekdays for groups of 10 people or more.
Events and Festivals
Every year in late May and June, we organize the Most Beer Fest.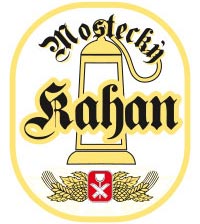 MOSTECKÝ KAHAN
Obránců míru 2629, 434 01 Most
Phone: 777 202 280
mosteckykahan@mosteckykahan.cz
www.mosteckykahan.cz
Mapa se načítá