PETR HAUSKRECHT – STEAM BREWERY
Petr Hauskrecht – Steam Brewery. The company was founded by experienced brewer Petr Hauskrecht along with two friends. Their company combines a return to the roots of the old Brno brewing traditions with modern brewing processes. The beer proudly bears the brand Petr Hauskrecht – Steam Brewery, confirming the tradition while bringing new challenges such as Petr's special beers, brewed, fermented, and matured according to his own recipes. The company's philosophy is to brew a genuine, handcrafted, and lively beer in Brno for all who care about what they drink.
Portfolio
In addition to Brněnské 11° and Brněnské 12°, which are brewed year-round, and the Špilberk 10°, brewed in the summer, there are also the special brews such as PH 13° Black Flek, PH 13° Magic, Moravian IPA, and the PH 16° Petr Bock, constantly expanding the range of new products from the exclusive Peter's Collection edition.
Availability
This 100% Brno-based brewery sells its products primarily in Brno and its vicinity.
Guided tours
If you'd like to see in person how the Petr Hauskrecht – Steam Brewery beer brand is brewed, you can attend one of the regular tours, guided by Petr Hauskrecht personally, right at the slightly eerie historical building in Brno's former slaughterhouse. Regular tours start at the Šalanda, a small brewery museum, every Tuesday and Thursday from 5 pm. The price includes a tasting and a designer glass. For reservations, see the website.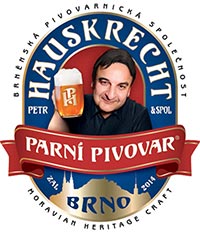 PETR HAUSKRECHT – STEAM BREWERY
Porážka 208/3, Trnitá, 602 00 Brno
Phone: 543 236 564
pivovar@hauskrecht.cz
www.hauskrecht.cz
Mapa se načítá