MELICHÁREK BREWERY
Amidst the fertile lands of Haná in Moravia, a small family brewery was born out of pure love for beer and brewing in 2010. It was built out of part of an old Haná homestead. Originally starting as a hobby, in 2013 it became a full-fledged brewery with all the necessary legislative arrangements. Even so, this is one of the smallest breweries in the Czech Republic regarding the boiler size and annual production, but in terms of diversity of production, it has a very wide assortment of beers.
"Melichárek beer combines a desire to brew quality beer with a desire to explore the infinite world of beer styles and flavors. The result is a unique product emerging from quality ingredients and an enthusiasm for beer."

Portfolio
The Melichárek brand brewed here features bottom and top fermented beer, light, semi-dark, and dark beer. The selection also includes a lager, Bock, wheat, stout, Vienna lager, India Pale Ale, American Pale Ale, English Pale Ale, Rauchbier, and more.

Availability
Beer can be savored in the brewery pub, located directly in the brewery. Beer is transported in kegs and bottles to the pubs and shops of Olomouc.

Guided tours
Tour dates must be booked in advance by phone. The maximum size of a group is 10 persons.
Events and Festivals
In June, the Horecké Beer Festival is held annually in the brewery. During the year, there are numerous other events in the brewery's pub.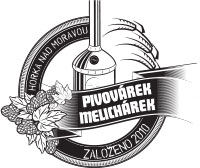 MELICHÁREK BREWERY
1. Máje 10, 783 35 Horka nad Moravou
Phone: 605 752 973
petr.melicharek@email.cz
www.pivovarekmelicharek.cz
Mapa se načítá