PALIČÁK MICROBREWERY
The Paličák Microbrewery began in the traditional brewery region of the Moravian-Silesian Region – of the Radegast Brewery. It emerged after formal and informal discussions among the beer lovers in the village of Palačov. They wished to make their own beer which would differ from "typical, traditional flavors of Nosovice beer" as well as to create a new beer flavor which would be distinct and typical.
All these friendly discussions took place with Mojmír Velký, the owner of the Koniček microbrewery which sold its first boiler to Pavel Vašut and became the guarantor for beer production at the Paličák Microbrewery. This found its home in the renovated farmhouse of Zdeněk Krutílek and will include a beer spa with the option of bathing in the beer foam, beer tasting, and supplemental rehabilitation services. It is currently undergoing construction, and information about its completion will appear on our website. A farmhouse will provide seating for cyclists and summer visitors who can taste our beers with products from our bakery. We plan to produce high quality beers that appeal to our beer drinkers and plan to expand the brewery to utilize new technology.
Portfolio
Paličák 11° light lager, Krutílek 12° light bitter lager, Čulibrk 13° dark special. Occasional specials for various occasions.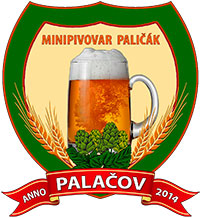 PALIČÁK MICROBREWERY
Palačov 43, 741 01 Starý Jičín
Phone: 604 343 795
info@minipivovarpalicak.cz
www.minipivovarpalicak.cz
Mapa se načítá