OSTRAVAR BREWERY
The Ostravar Brewery has the richest history and tradition in the Moravian-Silesian Region. It was founded during the Austro-Hungarian Empire and has operated at the same address ever since.
The brewery began to regularly brew beer in Ostrava in the summer of 1898. Since 1997, the Ostravar Brewery has been part of the Pivovary Staropramen company, the second largest beer producer in the Czech Republic. Pivovary Staropramen is part of the Molson Coors brewing concern.
It is worth mentioning that Ostravar is one of the last major breweries in the Czech Republic to use traditional technology in the preparation of its beer, namely the boiler-fermenting room-cellar process. This means that fermenting beer in Ostravar has been done the same traditional way for 120 years – in the fermenting room.
In 2016, the Ostravar Brewery became a general partner of the biggest sports hall in Moravia, bearing the name Ostravar Arena.

Portfolio
Ostravar Premium, Ostravar Original, Ostravar Mustang, Černá Barbora, Zimní 14°.
Availability
Pubs where Ostravar is tapped can be found at www.ostravar.cz/piva .

Guided tours
A brewery tour includes the copper brewing kettles, a look into the open vat of the fermentation room, and a visit to the cool lager cellars.

Events and Festivals
Every year during the month of June, the Ostravar Beerfest directly in the brewery complex. During the festival, visitors can taste the freshest beer straight from the cellar and can enjoy an excursion and brewing school organized by the brewery employees.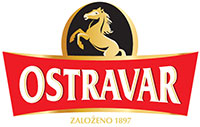 OSTRAVAR BREWERY
Hornopolní 57, 702 00 Moravská Ostrava a Přívoz
Phone: 596 650 111
www.ostravar.cz
Mapa se načítá