OSTRAVA PIVOVARSKÝ DŮM (BREWERY HOUSE)
The Ostrava Brewery House dates back to 2007, when on May 5 the brewery brewed its first batch of Qásek beer. At the house at Přívozská 367, where the Brewery House is located in the center of town, much has changed since then. The original 200-liter boiler was replaced by a 500-liter boiler, the capacity of the lager cellar was increased to 12,000 liters, and a non-smoking restaurant and garden for 50 guests was also added. The Ostrava Brewery House makes more than just its own brand Qásek, but also trades in beers from around the world. The beer bar features around 300 beers from Germany, Belgium, Holland, Poland, Italy, England, Scotland, USA, Mexico, and other countries. In the pub and restaurant, you can taste different beers from microbreweries across the Czech Republic on rotating taps.
Portfolio
Our year-round beer selection includes 10° Kunětický Hejkal – light draft, 11° Qásek extra bitter – light lager, 11° Qásek – dark lager, 11° Qásek MED – honey semi-dark lager, 12° Qásek – light lager, 13° Qásek – semi-dark specialty. Our seasonally-produced beers include: 10° Lejla – summer Ale, 12° Trigo – weissbier, 13° Qásek ABA – American Brown Ale, 16° Qásek IPA – India Pale Ale. Holiday and annual beers: 12° ShpeQ – rauchbier, 12° Vidle – Viennese lager, 12° Venda – birthday smoked porter, 13° Dorka – birthday special, 13° St. Martin special, 14° Firedog – chili special, 14° Blackdog – black Christmas special, 15° Rab – bock, 21° Voko Bere – imperial lager, and single hops in which only one kind of hops is added to the beer, different every time.

Availability
It's best to come directly to our Brewery House, but you may encounter our beer on a rotating tap not only in Ostrava, but also in Brno and Prague.
Events and Festivals
Every year on the first weekend after Easter, we organize a mini-festival in the Brewery House on the theme "winner spring prizes of Czech Brewers", when we offer our guests beer and breweries awarded directly by Czech brewers. In one place, at one time, you can taste the beer that was the most recognized in this Czech tasting competition.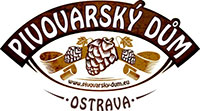 OSTRAVA PIVOVARSKÝ DŮM (BREWERY HOUSE)
Přívozská 367/34, 702 00 Ostrava
Phone: 774 514 190
pivovar@pivovarsky-dum.eu
www.pivovarsky-dum.eu
Mapa se načítá