U ČÁPA BREWERY
U Čápa (Stork) Brewery. The U Čápa Microbrewery is part of the same-named complex in Příchovice at the border of the Jizera and Krkonoš Mountains, where you'll find a restaurant with a pension, a Lighthouse and Museum dedicated to Jára Cimrman, forest park Na Sluneční, and a Ski Resort.
Beer is brewed here with respect, humility, and love for our customers, for the tradition, and for the experience of our ancestors, and for the skill and craft of brewing.

Portfolio
Honest Czech beer; this is our main program, represented by our beers Světoběžník JC – Cimrman 12° light lager, and Viennese JC Cimrman 11° light lager. The combination of malt gives the beer a golden color, a dense foam and a full flavor. The Czech hop varieties, dominated by the Saaz hop, bring a pleasant bitterness and unmistakable aroma of hops, which is underlined by the cold hopping in the lager cellar. We occasionally offer certain beer specials, one of which is the IPA of the British governor Colonel – a 14° special top-fermented beer.

Availability
As the name suggests, our beer is dedicated to the legendary Czech genius Jára Cimrman, and visitors can drink it in our restaurant drafted directly from the lager tanks. You can also take a beer in the original glass bottle as a souvenir from your travels through the region of Jára Cimrman. Purchase is available at the Restaurant U Čápa, Jára Cimrman Lighthouse and Museum, 1 Příchovice, Kořenov.

Guided tours
Tours are available by appointment.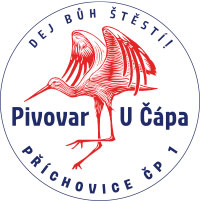 U ČÁPA BREWERY
Příchovice 1, 468 48 Kořenov
Phone: 602 257 385
pivovar@ucapa.eu
www.ucapa.eu
Mapa se načítá