PERMON BREWERY
Permon Brewery. The Sokolov Permon Brewery has a daily output of 1,500 liters. Permon beer production began in 2006. In 2011, the brewery was modernized and the town of Sokolov granted it brewing rights. Production of Permon beer is based on a constant effort to continue the tradition of brewing in Sokolov. The technology of all three breweries was strictly based on historical sources, and the breweries were constructed so that beer could be brewed the traditional method according to proven recipes with open fermentation.
Portfolio
Light lagers: 12° Melantrich light lager, 12° semi-dark lager. Top fermented beers: 10° Summer Ale, 12° Permon APA – P.A.P.A., 12° Stout, 13° Black IPA – B.I.P.A., 13° Winter Ale, 14° Permon IPA – P.I.P.A., 16° Sherpa I.P.A., 11° wheat beer. Special beers: 13° Xmas Ale, 13° Christmas light special, 14° Honey Ale, 15° Red Ale, 20° Angry Beer, 15° Rawit Chilli IPA, 15° Don Habanero Chilli IPA, 11° Easy Hopper, 17° Double IPA, 15° Hopper Single HOP, 15° Pumpkin Ale, 17° S.M.A.S.H., 15° In Hop We Trust. Flavored beers: 12° light lager – cherry, 12° light lager – cannabis.
Availability
Six taps directly in the brewery shop as well as full range of beer.
Guided tours
Upon prior telephone arrangement at +420 602 610 813.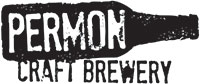 PERMON BREWERY
Komenského 77, 356 01 Sokolov
Phone: 602 610 813
Phone: 359 888 888
permon@pivopermon.cz
www.pivopermon.cz
Mapa se načítá