LISÝ DĚDEK FAMILY MICROBREWERY
The Lisý Dědek Family Microbrewery has been in operation since 24 August 2014, when the first batch of beer was ceremonially brewed. The brewery, located in the municipality of Kounice near Český Brod, took 15 months to prepare.
This unfiltered and unpasteurized beer with a natural yeast content is produced using conventional means with a dual mash method with open fermentation using traditional materials (drinking water, threshing malt, modified hops, and brewer's yeast).
The boiler can brew about 150 liters of wort, while there three stainless fermenting vats in the fermentation room. Maturation takes place directly in barrels.

Portfolio
The selection consists of "Czech classics" – i.e. 10° and 12° beers, brewed for family and friends, amounting to approximately 50 hl/year.

Availability
The beer is distributed in beer casks of 50L, 30L, and 15L kegs and 1.5 liter PET bottles.

Guided tours
A tour with a tasting session is possible after telephone arrangement.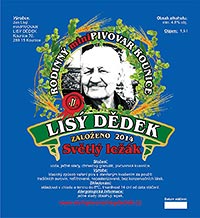 LISÝ DĚDEK FAMILY MICROBREWERY
Kounice 70, 289 15 Kounice
Phone: 721 654 412
lisyjan70@seznam.cz
www.minipivovarlisydedek.cz
Mapa se načítá