KRUŠOVICE ROYAL BREWERY
Krušovice Royal Brewery. The first written mention of the Krušovice brewery comes from 1581. As the only Czech beer of its time, the Krušovice brand was owned by the Bohemian royal crown – in 1583 it was purchased by the Bohemian King and Holy Roman Emperor Rudolf II, and Krušovice remained royal property for the next hundred years. Krušovice beer bears the logo of a Protected Geographical Indication as a Czech beer. For more than 430 years, its brewers have brewed without interruption from the best ingredients available – aromatic Saaz hops, excellent water from the Křivoklát Forests, and malt from Czech and Moravian barley.

Portfolio
Krušovice 10°, Krušovice 12°, filtered and unfiltered Mušketýr, Krušovice Černé (black), Krušovice Pšenice (wheat), Krušovice Malvaz, and seasonal beer specials. The novelty of 2017 is our cold-hopped lager.
Availability
Krušovice is sold on tap in restaurants and pubs throughout the Czech Republic. It is available retail in 0.5-liter glass bottles, cans and PET bottles (12°). Some establishments offer drafted tank beer. Tank management, information on brewing, and beer rituals are the pride of the network of Krušovice pubs bearing the name Šalanda (www.krusovickasalanda.cz).

Guided tours
A tour ending with tasting lasts 90 minutes and is available in Czech, German, English and Russian; interpretation into other languages can also be provided. Reservations should be made a week in advance at tel. number +420 737 224 087 or at e-mail: exkurze@krusovice.cz. The price, including tasting and souvenir, is 160 CZK, seniors and students 110 CZK.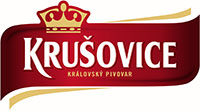 KRUŠOVICE ROYAL BREWERY
U Pivovaru 1, 270 53 Krušovice
Phone: 313 569 202
info@krusovice.cz
www.krusovice.cz
Mapa se načítá