BEROUNSKÝ MEDVĚD BREWERY
Berounský Medvěd (Beroun Bear) Private Family Brewery. The tradition of brewing in the royal town of Beroun is approximately 550 years old. In 1872, the burghers of Beroun built their own brewery which brewed until 1978. After a twenty-year pause, the Mayer couple revived the tradition of brewing beer in Beroun and founded a private family brewery. Beer is produced by bottom fermentation from traditional ingredients: fresh water, barley malt, hops, and brewer's yeast. Since the start of this year's harvest of green hops, all batches are brewed from this hop, and part is frozen for use throughout the year. In the newly renovated premises of the brewery, a brewery restaurant has been established. Visitors can enjoy Czech cuisine, a rich assortment of dishes, and of course the Berounský Medvěd beer. The former brewery Suchomasty is also owned by the family, where a malthouse is operated.
We won two-thirds of the prizes in the international brewing competition "Golden Seal" in České Budějovice, which took place in February 2017.

Portfolio
The following beer brands are currently produced:
8° Cyklopivo light draft, 11° light Zlatý Kůň, 11° Honzovo semi-dark honey, 13° Berounský medvěd dark, 14° Klepáček semi-dark, 15° light special Lord, 18° Grizzly dark.

Availability
Berounský Medvěd beer can be purchased nonstop at the brewery in 1.5-liter PET bottles. We fill beer into 15L, 30L, and 50L kegs by order. Kegs and dispensing equipment can be rented. Beer is also available in gift glass bottles. Our new item is Chmelovice – a spirit distilled from the local beer flavored with hops, available in different packages.

Guided tours
The brewery restaurant is open daily; excursions in the brewery where the boiler is fueled by wood, are possible by agreement.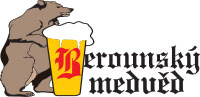 BEROUNSKÝ MEDVĚD BREWERY
Tyršova 135, 266 01 Beroun
Phone: 311 625 239
Phone: 311 322 566
Phone: 602 388 305
Phone: 728 325 809
info@berounskymedved.com
www.berounskymedved.com
Mapa se načítá