MANNER BREWERY
Manner Brewery. The tradition of brewing in Bohdalice-Pavlovice dates back to the Middle Ages. At least a hundred years have passed, however, since the local brewery in the building that people still pass on the road from Bohdalice to Kožlany, ceased its operations. On 4 September 2015, the domestic brewery in Bohdalice Ovčína opened.

Portfolio
Manner 10° light draft beer, Manner 11° light lager, Manner 11° Ale, Manner 12° light lager.
Availability
Our beer is mostly sold in Brno, both under our brand and by gypsy breweries. We brew for own events and to order; we're in the process of building a pub right next to the brewery.
Guided tours
We can arrange a professional tour upon agreement, which can be combined with a narrative by the brewer, a tasting, and a meal.
Events and Festivals
Several times a year, the rancmanner.cz complex hosts sporting and social events where our beer is featured. Throughout the entire season, visitors can take advantage of the multi-purpose playground, riding stables with individual horse-riding instruction, and view the pens with plenty of animals. We also provide accommodations.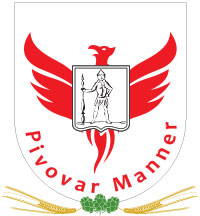 MANNER BREWERY
Bohdalice 306, 683 41 Bohdalice-Pavlovice
Phone: 723 345 222
info@pivovarmanner.cz
www.pivovarmanner.cz
Mapa se načítá