LUCKY BASTARD BREWERY
Lucky Bastard Brewery. "Imagine a perfect world where everything would be perfect, nice, and simple. This is exactly the world we imagine when we make our beer recipes and brew it for you. We've had enough of boring beers brewed according to recipes repeated a hundred times, we've had enough excuses about tradition and custom, we're tired of following the overlord of bottom fermented beers – ordinary pilsner type lagers – when such an amazing and colorful world of top-fermented beers exists, Ales".

Portfolio
We are the first brewery in the Czech lands since 1884 that holds only to top fermented standard production. It's about time that we return a beer to our country that people here always drank – it's just been forgotten about a bit since then.

Availability
Lucky Bastard Beer is available in dozens of companies with an extended beer selection, especially in Prague, Brno, and Bratislava and in good beer bars.

Guided tours
Guided tours are available by appointment for a price of 150 CZK per person. The minimum payment for the group is 1000 CZK (we don't care how small the group is).

Events and Festivals
The brewery participates in many festivals in the summer, both in the Czech Republic and abroad.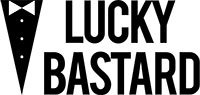 LUCKY BASTARD BREWERY
Kotlářská 51a, 602 00 Brno
Phone: 608 110 686
info@lucky-bastard.cz
www.lucky-bastard.cz
Mapa se načítá