LÍŠEŇSKÝ BREWERY
The Líšeňský Brewery was founded in 2011 and began a new history from 1 May 2016 with its new owners. The microbrewery with boiler with 5 hl capacity and annual production of up to 1,500 hl has become renowned for its honest Czech lagers as well as unusual specials in the modern era.
Portfolio
Our basic selection consists of the popular Czech lagers Marvan 11° and 12°. The name "Pepa" is a composite of the first two syllables of the names of the two owners (Petr and Pavel) and is the first new recipe created under their operations. Also honest black dark lager Černé 13° and top fermented wheat beer Pšenice 12° LP, then a mix of the 11° and black to create the cut beer Ležan 12°. Specials that customers can taste in the brewery's new era include Alfa 11° American Pale Ale, Bravo 14° India Pale Ale, B.H.B. 50 EPA – 12° English Pale Ale, 13° Pumpkin Ale, Kellerbier 12° – bottom fermented German lager, Barbora 17° Christmas Bock – semi-dark Munich special beer, Pils 12° LP – bottom fermented Bavarian lager, and others.
Availability
The brewery's capacity is currently sufficient to supply the local restaurant. Sometimes, however, you may encounter our beers in selected Brno restaurants and pubs specializing in microbrewery production.
Guided tours
A short or long tour of the brewery with tasting with an expert narrative by our brewery or another competent person is not a problem after prior agreement.
Events and Festivals
The Líšenský Brewery is active at many beer festivals in and around Brno.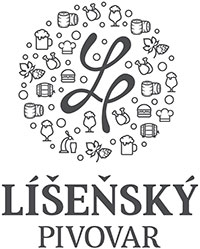 LÍŠEŇSKÝ BREWERY
Kotlanova 2162/5, 628 00 Brno
Phone: 603 763 211
restaurace@lisenskypivovar.cz
www.lisenskypivovar.cz
Mapa se načítá