KYJOVSKÝ BREWERY
The Kyjovský Brewery builds on the successful history of the original Kyjovský Brewery which operated under various owners from the early 16th century until 1966.
We produce our beer using traditional methods. Consumers can enjoy 10° draft beer, 12° lager, and other special beers. Standard brewing operations, like the one in Kyjov, can't get by without a boiler, fermenting room, space for lager barrels, but also a scrapyard and a place for cleaning and filling barrels and bottles. The brewery also includes a restaurant, complemented by the multi-purpose hall and a summer garden. The hall is used primarily for presentations, wedding receptions, birthday parties, and other events such as small concerts and the like. In addition to great beer, we also offer our guests fine cuisine, specialty beer dishes, and of course pleasant and fast service.
The next phase in our brewery will be beer spa services as well as the sale of beer souvenirs and other topical products.
Portfolio
Kyjovská light draft 10°, Kyjovský light lager 11°, Kyjovský lager 12°, Jantar amber, semi-dark 12.5° lager, Granát, special dark 13°, Janek, special dark 15°, Vienna lager 11°, India Pale Ale, semi-dark 15°, Easter, semi-dark specialty 13°, Christmas light special 14°, and special honey Vilík 13°.

Availability
Beer is drafted directly from the tanks in the brewery restaurant as well as in pubs and restaurants in the Kyjov surroundings. Customers will also appreciate "across the street" sales either in one-liter PET bottles or in kegs with the loan of a tapping device.
Guided tours
Those interested can attend guided tours and learn more about beer production. The adjoining restaurant also offers a view directly into the actual brewery operation.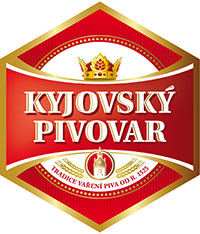 KYJOVSKÝ BREWERY
třída Komenského 596, 697 01 Kyjov
Phone: 518 614 313
info@kyjovsky-pivovar.cz
www.kyjovsky-pivovar.cz
Mapa se načítá