KVĚTNICE BREWERY
Květnice Brewery. The brewery loosely follows on the tradition of breweries in Tišnov and surroundings, especially the now extinct brewery in Předklášteří, which was founded in the Middle Ages as part of the Porta Coeli monastery whose peak was in the 19th and 20th centuries.
The brewery's actual operation is located in nearby Tišnov. It was created in 2016 by modifying a former sauna in the open-air cinema building. The brewery mainly brews bottom fermented beers using traditional methods.
The Květnice Brewery is a family business of people who share a love for the craft and for good beer. We brew using quality local ingredients, traditional methods, and without substitutes and accelerating the process. The result is a beer with flavor and a soul that will delight every lover of this drink.

Portfolio
The basic portfolio consists of light and semi-dark 11°, completed in the season by 10°, then during the low season by 12° and various occasional specials.
Availability
Tišnov: the pub next to the brewery, Sklep restaurant, and in small containers in the Beverage (Nápojový) Center. Also available in restaurants, pubs, and beer bars in Brno and near the brewery.
Guided tours
Tours are available by appointment; see the brewery contacts below.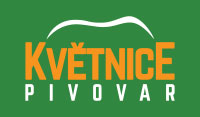 KVĚTNICE BREWERY
Hornická 1698, 666 03 Tišnov
Phone: 774 064 077
info@pivovar-kvetnice.cz
www.pivovar-kvetnice.cz
Mapa se načítá