U TŘÍ KRÁLŮ BREWERY AND COTTAGE
The renowned hotel U Tří Králů, or Three Kings, has been in operation in Prostějov since 1906. The current owners of the brewery and cottage renewed it in 2011, keeping the original name for its company – the word "koliba" is a special Wallachian style cottage.
The beer is brewed exclusively from Saaz hops and Prostějov malt, and the fame of the local malthouse, in operation since 1869, is known throughout the world.
The construction boasts the largest tile stove near and far, a stylish interior, and a restaurant with a high-quality kitchen and a bowling alley.

Portfolio
Bottom fermented beer that rigorously complies with the maturation period in the lager cellar. Pilsner beers according to the original recipe –10° Tříkrálová, 12° Melichar lager, and special dark 13° Baltazar custom recipe brewed from four types of malt. Historical Zahořan 11°, semi-dark 14° Vienna special, 13° wheat Weissbier, Nopal beer, and fruit specials based on the season.

Availability
Only in the microbrewery's restaurant. Selected types of beer, however, can be purchased and taken away in 1-liter PET bottles.

Guided tours
On brewing days or by appointment. A tour includes the malthouse, boiler, fermenting area, and in the lager cellar you can taste the beer directly from the lager tanks.

Events and Festivals
Every year on Epiphany and on 18 May ceremony, we celebrate the anniversary of the brewery with a roast suckling pig and live music. Easter and Christmas tastings of beers brewed only once per year.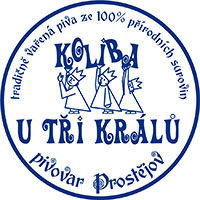 U TŘÍ KRÁLŮ BREWERY AND COTTAGE
Finská 8, 796 01 Prostějov
Phone: 588 008 088
info@kolibautrikralu.cz
www.kolibautrikralu.cz
Mapa se načítá