CHOMOUT BREWERY
Chomout Brewery. We are a family brewery, and we simply enjoy beer. We originally started to brew for ourselves at home, but soon there wasn't enough beer either for us or for our beer buddies, so we built a real brewery. We brewed our first commercial batch in July of 2014. Our steady selection consists of six beers, which are continually being supplemented by more specials. We enjoy discovering new tastes, and we like to experiment. We don't spoil our beer by filtration or pasteurization.

Portfolio
Top and bottom fermented beers of all styles. 10° draft light, semi-dark lager, dark lager Švarc, the official beer of Olomouc University – UP Blonde Ale, IPA – Něžná, Režná, Divá Bára, and other seasonal specials.
We're pleased that our beers are winning awards at beer competitions.

Availability
On tap and in bottles in Olomouc and its surroundings, but also in small quantities from Prague to Košice. More on our website in the Brewery section.
Guided tours
TOURS
For groups of 5-15 people on workdays and weekends by appointment. The tour lasts an hour and includes a tasting and a beer glass. The tour takes place in English and French, but we also speak Czech.

Events and Festivals
Our beer tavern offers seating in a stylish novel environment and in our spacious garden in the summer. We cook a daily menu and culinary specialties. Wedding parties in Chomout are a favorite event, as are celebrations and corporate events.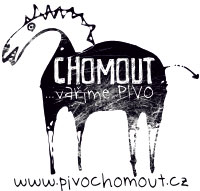 CHOMOUT BREWERY
Dalimilova 18/92, 783 35 Olomouc
Phone: 604 353 469
varime@pivochomout.cz
www.pivochomout.cz
Mapa se načítá