PRIMÁTOR BREWERY
Primátor Brewery. The burghers of Náchod owned the right to brew beer since the Middle Ages. The foundation stone of the current brewery was laid in the year 1872.
The brewery has undergone extensive modernization in recent decades. The new equipment allows for brewing by traditional and centuries-old technology which is characteristic for Czech beer. Premium carefully selected domestic raw ingredients such as malt from south Moravia, aromatic Saaz hops, and high-quality water from the natural reserve of the Adrspach-Teplice Rocks produce a Primátor beer that retains its unmistakable delicious taste and meets requirements for high international quality.
Portfolio
Brewer Petr Kaluža and his entire team brew our beer with love, according to traditional recipes, and with an emphasis on the selection of quality ingredients and originality. Currently, the permanent selection consists of 15 kinds of beer and 3 seasonal beers. Our bestsellers are lagers and specialty beers, our top fermented beers Weizenbier, EPA, Stout, and IPA are also becoming more popular.
Availability
On draft and in bottles throughout most of the Czech Republic; more detail at www.primator.cz .

Guided tours
A brewery tour ending with a beer tasting at the visitor center can be ordered by mail or phone.
More at www.primator.cz .

Events and Festivals
Every year, traditionally the third Saturday in May, the brewery holds its Open House Day, "Day P", including a music program, excursions, and beer flowing from the brewery taps.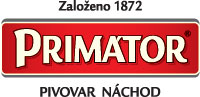 PRIMÁTOR BREWERY
Dobrošovská 130, 547 40 Náchod
Phone: 491 407 111
marketing@primator.cz
www.primator.cz
Mapa se načítá