ENERGON BREWERY
The Energon Brewery came into existence through a reconstruction of the entire Nový Rybník pension in March 2013. The name and logo of the beer came from a public competition, so Baštýř beer has been brewed here since the spring. Energon Brewery was the clear choice. Its name originates from the company that owns it. The original idea of establishing the brewery was to renew brewing tradition in the Dobříš region.
The complex where the brewery is located offers a beer hall, a restaurant, wine-style lounges, and spaces for corporate events, weddings, birthday parties, etc. There are also wellness services, such as a beer spa, massages, sauna, and outdoor sports – tennis, beach volleyball, and table tennis, as well as a children's playground and a trampoline.

Portfolio
We are a microbrewery that wishes to offer its guests a high-quality and good beer from quality ingredients to create a comfortable space for people to come together. The brewery offers a premium selection of unfiltered and unpasteurized beers. Three types of beer are brewed under the name Baštýř such as the light Baštýř 10°, light lager Bastyr 12°, and semi-dark lager Bastyr 11°. The brewery's specialty over the course of the year include wheat, cherry, and green beer.

Availability
Our beer can be tasted and purchased mostly within the local region.
Guided tours
A brewery tour with narrative and tasting of our currently available assortment of beer takes place by appointment only and for groups of 6 people.

Events and Festivals
The Energon Brewery regularly participates in annual events such as the Dobríš May Festival and the Sun in Glass Festival.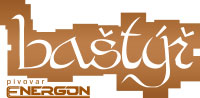 ENERGON BREWERY
Obořiště 53, 262 12 Obořiště
Phone: 724 858 626
Phone: 724 175 604
penzion@novyrybnik.com
pivovar@novyrybnik.com
www.novyrybnik.com
Mapa se načítá