ANTOŠ BREWERY
Antoš Brewery. Ondřej Antoš gained a brewing house in 1518 and brewed beer from 1536. The Antoš family was an important family in the history of the city. Václav Antoš held office from 1569-1587 as imperial magistrate. In 1578, he had the house rebuilt into its current form, which includes a remarkable renaissance portal with a shield containing the appropriate dating and the symbol of an anchor whose tips are stylized into the monogram "W".
Brewing in the house was renewed on the Summer Solstice in 2010.

Portfolio
Rarach – draft 10°, Antoš lager 11°, Černé Poupě – lager 12°, semi-dark 13°, Bohemia Pale Ale 12°, Slánská pšenka 12°, Tlustý netopýr – rye IPA 17°, Choo Choo – black IPA 18°, and other seasonal specials.
Availability
In Slaný at the Antoš beer bar, Pražská 1847, or the Antoš Tavern with brewery, Vinařického 14.

Guided tours
We'll gladly show you the underground spaces of the brewery from the 13th century, as well as beer how we make it.
Events and Festivals
Slansky tuplák, a two-day event regularly in mid-June on the Masaryk Square in Slaný. Antoš Brewery Happening – plenty of music, entertainment, contests and attractions for children and adults. Free entry. You are cordially invited ( www.tuplak.cz ).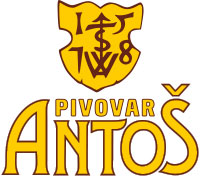 ANTOŠ BREWERY
Pražská 1847, 274 01 Slaný
Phone: 775 110 012
www.pivovarantos.cz
Mapa se načítá