U TŘÍ RŮŽÍ MICROBREWERY
The Microbrewery U Tří růží (Three Roses) builds on more than six hundred years of brewing history in this historic building in Prague's Husova Street. The high quality of the beer is guaranteed by our experienced brewmaster Robert Maňák, winner of many prestigious awards. Our beer is brewed using modern technologies, from high-quality raw ingredients and to the highest standards. Nonetheless, we still use preserved traditional and time-tested methods. The equipment includes a 10-hectoliter boiler made in the Pacovské Machine Works. On the ground floor there is a restaurant complete with open fermentation room, and fermentation and lager tanks in medieval cellars.
Portfolio
The beers produced by the U Tří růží Microbrewery are diverse, top and bottom fermented, and brewed from the finest local and imported raw ingredients, giving you the opportunity to experience the diverse flavors of traditional beers and beer specials.
Availability
In the U Tří růží Brewery or in our second restaurant named Vojanův Dvůr in Malá Strana.

Guided tours
We can arrange a brewery tour upon request or reserve it directly at the U Tří růží Brewery.

Events and Festivals
The brewery is involved in several dozen beer festivals throughout the Czech Republic, such as Dočesná, Pivo na Náplavce, Pivobranní Mikulov,
Slunce ve Skle, and others.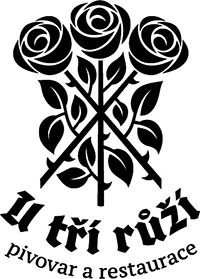 U TŘÍ RŮŽÍ MICROBREWERY
Husova 10/232, 110 00 Praha 1
Phone: 601 588 281
rezervace@u3r.cz
www.u3r.cz
Mapa se načítá